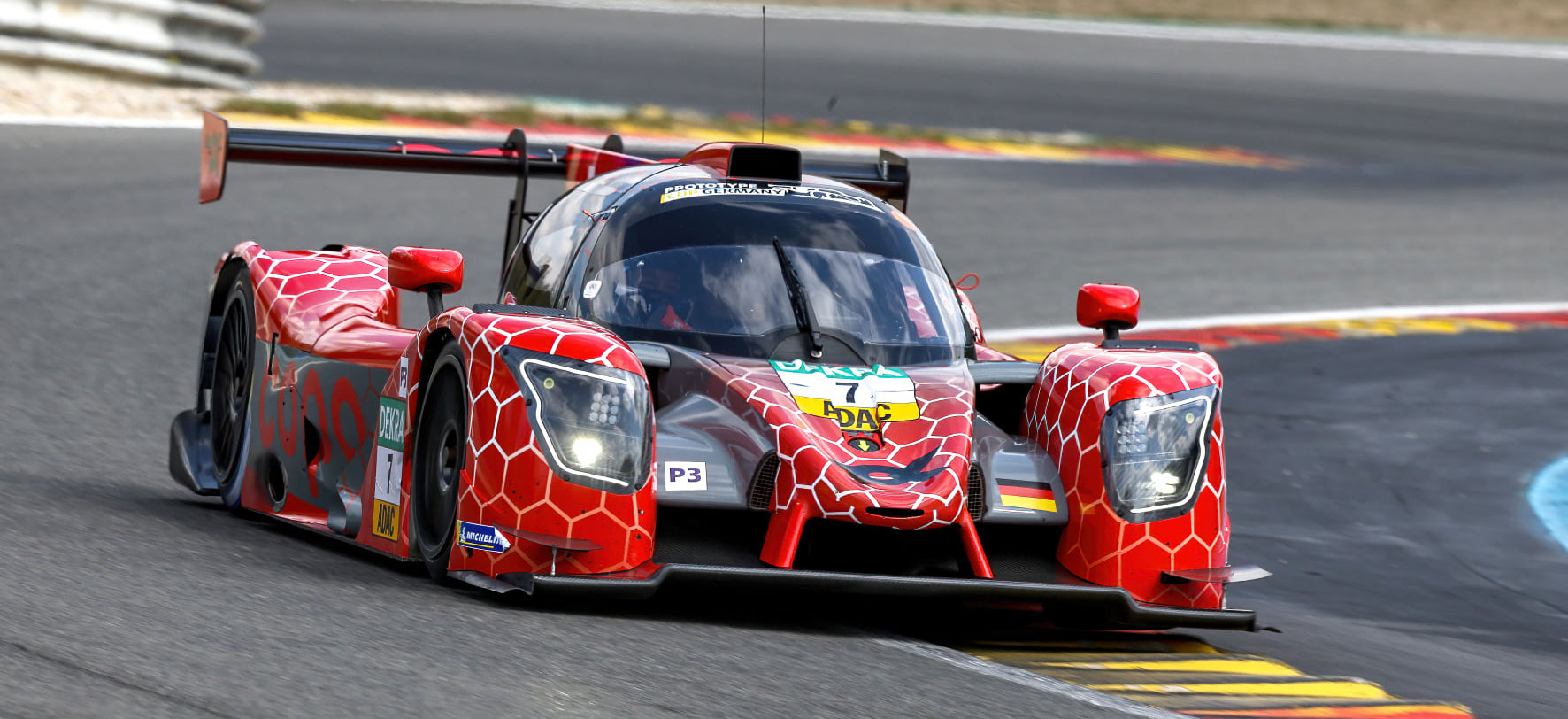 Double victory for the Ligier JS P320 in the inaugural round of the Prototype Cup Germany!
23 - 24 April 2022 - Prototype Cup Germany kicked off at Spa-Francorchamps, Belgium. With four Ligier JS P320s among the 11 LMP3s entries, the French constructor's sport-prototype secured pole position for race 1 (#24 Reiter Engineering), victory in both races (#7 Toksport WRT) and two podium places (third in race 1 with the #24 Reiter Engineering and second in race 2 with the #777 Inter Europol Competition).
Four Ligier JS P320s are entered in this brand new LMP3 championship organised by the 24H SERIES promoter. Speed Factory Racing with the #5 (Santiago Concepcion Serrano and Giorgio Rosa), Toksport WRT with the #7 (Berkay Besler and Marvin Dienst), Reiter Engineering, also competing in the Michelin Le Mans Cup, with the #24 (Florian Janits and Eike Angermayr) and the #777 (Jamie Winslow and Damian Ciosek) from Inter Europol Competition, which is also participating in the European Le Mans Series.
The programme includes two 30-minute free practice sessions, two 15-minute qualifying sessions to determine the starting grid for each race and two one-hour plus one-lap races with a mandatory pit stop.
With a lap time of 2:13.005s, the #24 Reiter Engineering Ligier JS P320 was the fastest LMP3 car in the first qualifying session that set the grid for race one. On Saturday, 23 April, the three Ligier JS P320s monopolised the front of the grid: the #24 of Reiter Engineering, the #777 of Inter Europol Competition and the #7 of Toksport WRT. A few minutes into the race, two competitors collided, which resulted in a safety car period. The race resumed with 30 minutes remaining. With 15 minutes to go, the #7 overtook the #24 for the leaf of the race and went on for the win. The #24 came home in third place and set the race's fastest lap in 2:14.516s.
In race 2 the next day, the #7 Toksport WRT Ligier JS P320 jumped into the lead. Several laps later, the #24 Reiter Engineering car went off the track and finished in the gravel trap, necessitating the services of the safety car. The race was neutralized for nearly 20 minutes. The #7 held onto the lead at the restart but lost positions before regaining the lead with seven minutes remaining. The German team made it a pair of victories and the race's fastest lap in 2:14.336s on the iconic Spa-Francorchamps circuit. The Inter Europol Competition #777 concluded an excellent late-race comeback drive to finish runner-up, 11 seconds adrift of the winner. The Speed Factory Racing #4 finished just off the podium in fourth place.
The next round of the Prototype Cup Germany will be held at the Nürburgring from 15 to 17 July.
For race 1 results, CLICK HERE.
For race 2 results, CLICK HERE.
---
Photo credit: Petr Frýba