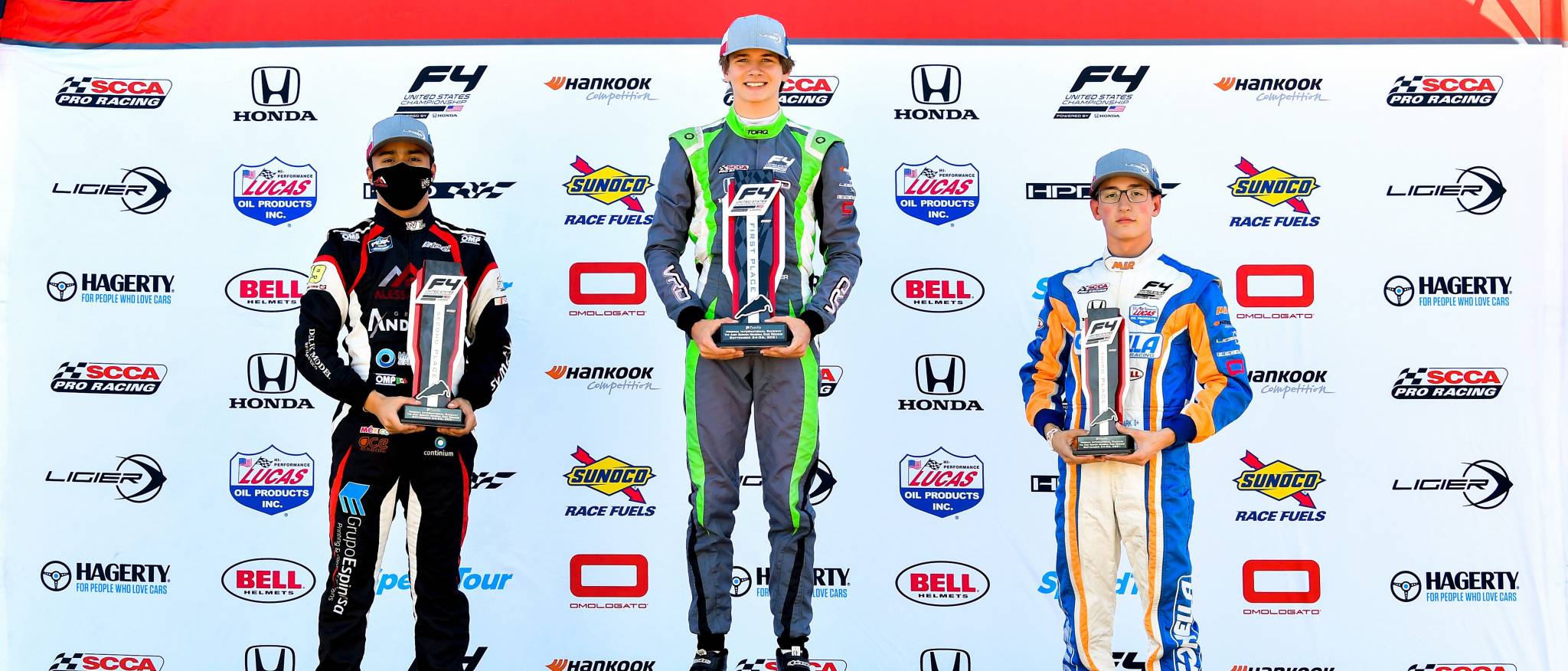 F4 U.S.: A tight Championship finish on the way
September 24 - 26, 2021 – The VIRginia International Raceway hosted the fifth round of the F4.U.S. Championship with 27 Ligier JS F4s in competition. The #77 of Jason Alder (Velocity Racing Development) and the #26 of Mac Clark (Gonella Racing) stood out with victory over their rivals. The #77 triumphed in races 1 and 3 while the #26 finished first in race 2. With the final round coming up in November, the title will be decided by just a few points.
Along with the FR Americas Championship, the F4.U.S. Championship returned to the asphalt after the summer break.
On Friday 24 September, the #31 Ligier JS F4 of Christian Weir (Gonella Racing) took the lead in the free practice session. The driver set the fastest time on track in 1:56.724s.
Then came qualifying. And it was championship leader Noel Leon (#19, DEForce Racing) who took pole position for the first race with a lap of 1:55.284s. Behind him were two of his main rivals in the title race: Nico Christodolou (#22, Velocity Racing Development) and Jason Alder (#77, Velocity Racing Development).
Alder, who has already won two races this season, added a new trophy to his record by winning the first race of the weekend ahead of Velocity Racing Development teammate Nico Christodoulou. "Throughout the week, Nico [Christodoulou] and I were within a tenth of each other. Fighting at every green flag was incredible and it shows how competitive the team is," said the driver after the race.
The second race of the day was won by Mac Clark (#26, Gonella Racing), who has now four wins in the championship. Only 0.086 seconds separated him from Nico Christodoulou, who once again took second place on the podium.
Because one victory is not enough, the driver of the #77 Ligier JS F4 Jason Alder was the first to cross the finishing line for a second time in the third race on Sunday. "I'm going to train as hard as I can for the next races and do my best. There will be new competitors so it's really just going to be managing what I'm doing until then, and all I'm going to do is prep", he explained.
The U.S. F4 Championship will be determined in the final weekend of the season at the famous Circuit of the Americas in Austin. Noel Leon (#19, DEForce Racing) still leads the championship with 174 points, closely followed by Mac Clark (#26, Gonella Racing) with 170.5 points. Jason Alder is third with 151 points and Nico Christodoulou (#22, Velocity Racing Development) fourth with 141.5 points.
For full results, CLICK HERE.
---
Photo credit: Gavin Baker