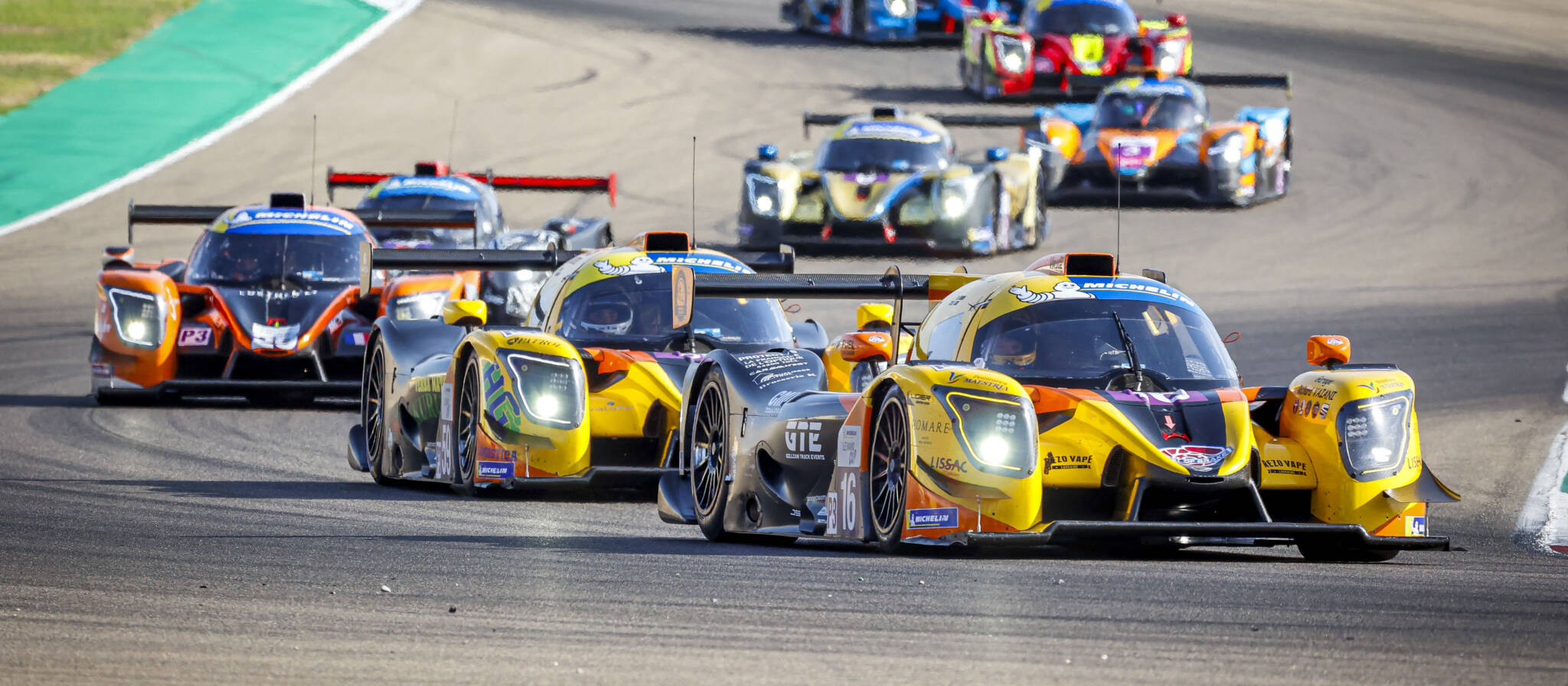 The #16 Team Virage Ligier JS P320 asserts its leading position in the Michelin Le Mans Cup
Race five of the Michelin Le Mans Cup took place at Motorland Aragon on Friday, 25 August. Following the pole position of the #22 United Autosports Ligier JS P320, the French constructor's LMP3 scored a double podium finish with the #16 Team Virage (second) and the #77 Team Thor (third). The two teams are still first and second in the championship standings.
• It was the first time the Michelin Le Mans Cup had travelled to the highly technical Motorland Aragon circuit, where the teams and cars encountered sweltering heat.
• On Friday, 25 August, Joshua Caygill, driver of the #22 United Autosports Ligier JS P320, set the fastest qualifying time of 1:54.235s. The Ligier JS P320 has secured every pole position since the start of the season in April.
• The race started late in the day. The #22 Ligier JS P320 held its position for about 20 laps until its compulsory pit stop. It was a long stop, which cost it more than 20 positions in the standings.
• From fourth place on the LMP3 grid, the #87 COOL Racing Ligier JS P320 (Adrien Chila and former Ligier European Series driver Cédric Oltramare) gained two positions up to second place. The #16 of Team Virage (Julien Gerbi and Gillian Henrion, 2022 Ligier European Series JS P4 Champion) was third ahead of the #25 from 360 Racing (Mark Richards and Belen Garcia Espinar).
• A few laps later in the race, the #87 Ligier JS P320 took the lead. The #16 and #25 also moved up a position. Three Ligiers comprised the leading trio.
• Without delay, the #16 Ligier JS P320 pounced on the #87 and overtook it. But a safety car period threw a monkey wrench into the plans of the championship leader. With a few laps to go, the #16 was overtaken. Behind, the #77 of Team Thor (Audunn Gudmundsson and Colin Noble) also took advantage of the reduced gaps to slot into third place.
• The #16 Team Virage Ligier JS P320 finished second in the race and claimed its third podium result of 2023. It continues to lead the championship with 72 points. The #77 Team Thor was the third LMP3 car to take the chequered flag, with Colin Noble clocking the fastest lap of the race in 1:54.063s. The Icelandic team's car is also second in the championship with 51 points.
Race five of the season will take place at Spa-Francorchamps on 23 September.
For the race results, CLICK HERE.
For more information about the Ligier JS P320, CLICK HERE.