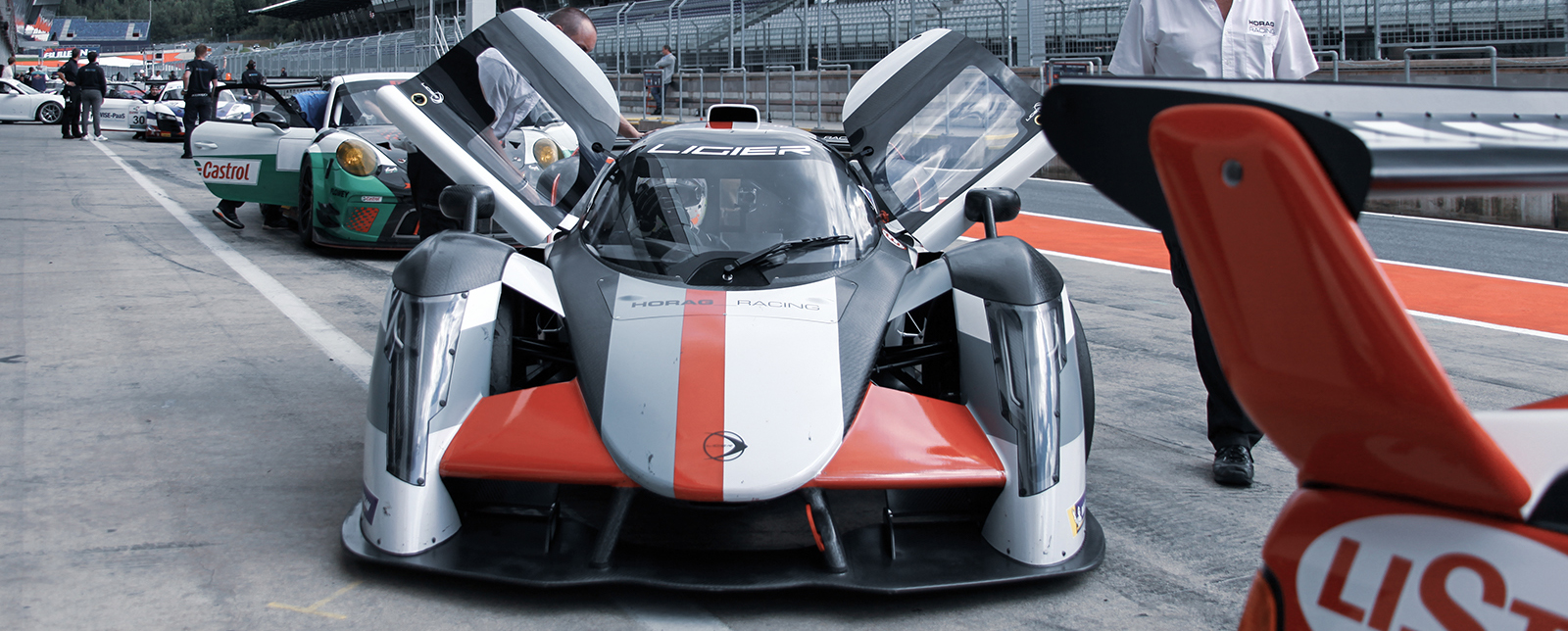 Horag brings an explosive mixture of racing cars to the Red Bull Ring!
What do a Ligier JS P4, a BMW M1 Procar from 1979 and a 2005 Lola B05/40 LMP2 have in common? The Swiss team, Horag! On 24-25 August the team had three cars available for its clients wishing to turn laps on the Red Bull Ring circuit. Only the Ligier JS P4 didn't come out of the Swiss Autobau car museum. And drivers like Didier Theys, double overall winner of the 24 Hours of Daytona, winner of the 12 Hours of Sebring as well as the 24 Hours of Spa took advantage of this opportunity to test these three models.
The summer ended on a high note for Horag on 24-25 August on the Red Bull Ring at the test days held by KR Motorsports. On the track Horag was looking after three very different models for its clients. The Swiss team's Ligier JS P4 rubbed flanks with two historic cars from the Autobau car museum: a BMW M1 Procar from 1979 and a 2005 Lola B05/40 LMP2. Didier Theys from Belgium and Fredy Lienhart from Switzerland drove the BMW and the Lola. Markus Hotz, the founder of Horag, also got behind the wheel of the BMW that he'd raced in the Procar Series in 1979 with Swiss F1 driver, Marc Surer.
"It's not every day that we run such different models," exclaimed Benjamin Hotz, the Horag President. "We were lucky enough to run very different cars and have them tested by drivers who come from multiple horizons. We're delighted to see that our Ligier JS P4 can seduce and convince drivers used to racing in LMP2 or in LMP3 as well as novice gentlemen drivers. Didier Theys who's done a lot of racing with us in LMP2 and who's racked up a very impressive set of results did a few laps in the Ligier JS P4 and found that it was a super racing car. It bodes well for our projects with the JS P4."
Hardly had the team arrived home from the Red Bull Ring when it was already on the road for the SCC and P9 Challenge race in Brno between 2-5 September with its Ligier JS53 Evo 2. The team's also preparing its Horag Test days this coming 3-4 November at Grobnik in Croatia. "We're focused on our next test days," explains Benjamin. "It's a big event for us that we repeat every year for our clients. The aim isn't to have too many participants so that there's not too much traffic on the track and we can give our clients the best possible experience at the wheel of our cars. We're almost fully booked, but we still have a few places left for enthusiasts who would like to discover our cars or the Grobnik circuit."
For more information about Horag and its test days rendezvous on its internet site www.horag.com or contact info@horag.com.
---
Photo credit: Horag