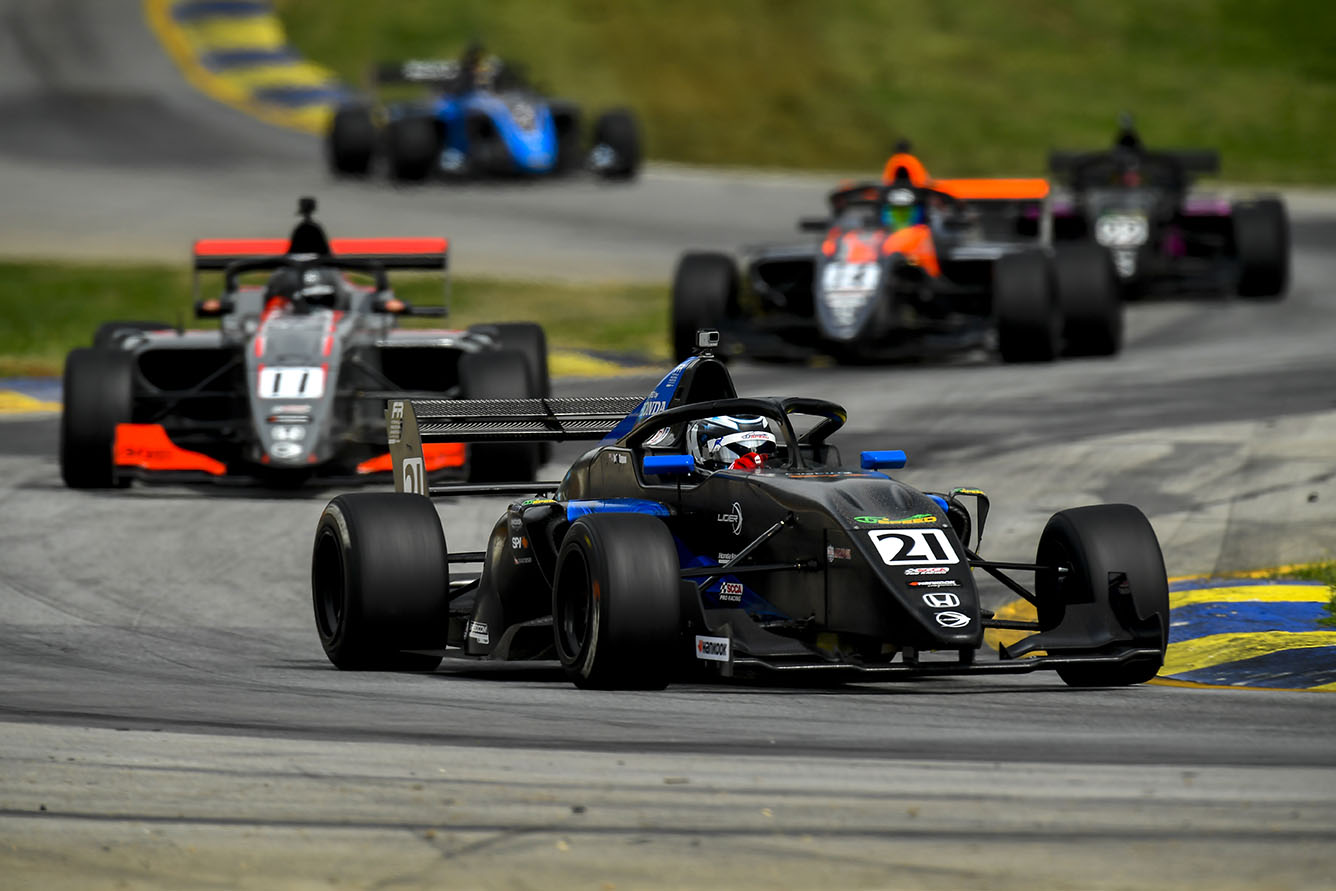 The Ligier JS F3s and Ligier JS F4s hit the track at Road Atlanta
March 26-28 - The FR Americas and F4 US championships, equipped with Ligier JS F3 and Ligier JS F4 chassis, opened this weekend at Michelin Road Atlanta circuit in the USA. The three F3 races were largely dominated by 16-year-old Kyffin Simpson (TJ Speed Motorsports), who also took pole position. In F4, Noel Leon (DEForce Racing) clinched pole position and won the third race, while Jason Alder (Velocity Racing Development) wins the first two races. Take a look back at a crazy weekend.
After free practice on a wet track the day before, the F3 drivers had to prove themselves in qualifying in just 20 minutes, due to a large oil spill on the Road Atlanta circuit. And it was Bajan driver Kyffin Simpson (#21) of TJ Speed Motorsports team who stood out from the twelve Ligier JS F3s. He took pole position with a lap of 1m 19.141s. In F4, it was Mexican Noel Leon of the DEForce Racing team who clinched pole position with a lap of 1m 28.258s in his Ligier JS F4 #19.
The start of the first F3 race was given on Saturday 27 March at around 9am local time. True to his performance of the previous day, Kyffin Simpson took the chequered flag and his first victory of the season. In the afternoon, he took the lead with almost 12 seconds over his closest rival. Third and final race on Sunday around 3pm. Despite uncertain weather conditions and several incidents during the race, Kyffin Simpson completed a hat-trick of victories at Road Atlanta. "I had a great gap already by the first corner. It was a nice easy race and solid win. I think we can keep up this momentum", said Kyffin Simpson.
Despite his pole position the day before, #19 driver Noel Leon finished second in the first two F4 races on Saturday 27 March. It was American Jason Alder, driver #77 of the Velocity Racing Development team, who dominated his competitors. The two drivers fought closely on the track: at the end of the second race, the gap between them was less than a second. But the next day, Noel Leon got his revenge on a wet track. He crossed the finishing line and closed the weekend with his first victory of the season.
The next round of FR Americas and F4 US championship will take place from May 14 to 16, at the Road America circuit in Wisconsin.
To consult the full results in F3, CLICK HERE.
To consult the full results in F4, CLICK HERE.