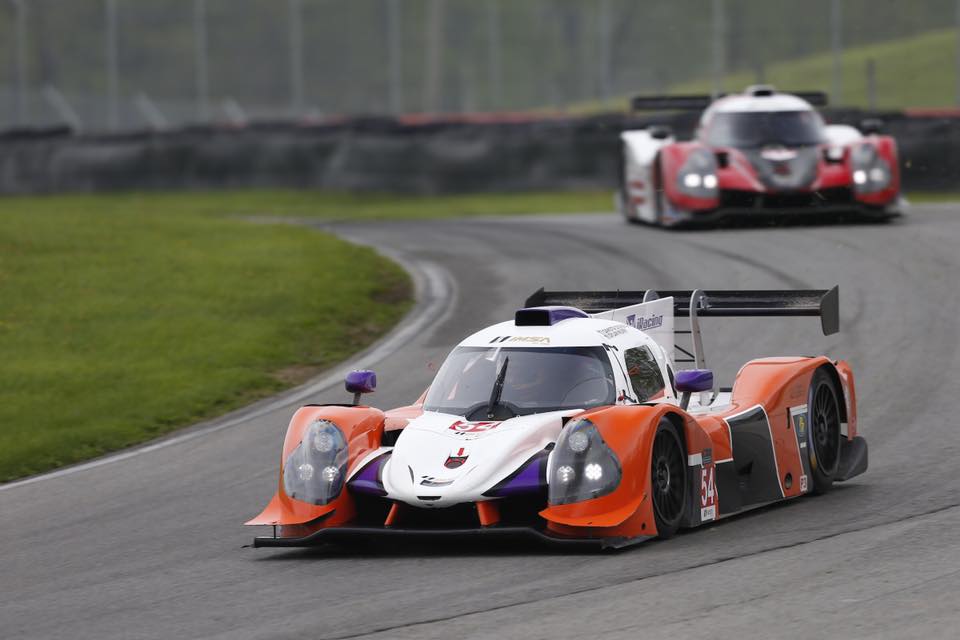 The Ligier JS P3s monopolise the podium in the third IMSA Prototype Challenge race in Mid-Ohio!
3-5 May 2019: a field of 23 LM P3s did battle in the third round of the IMSA Prototype Challenge (IPC) on the Mid-Ohio circuit. It turned out to be a Ligier festival as the French-built cars dominated the 1h 45m event. Victory went to the #54 MLT Motorsports Ligier JS P3 which, on only its second outing in the IPC, romped home to victory after dominating its rivals for 90% of the race. Joining it on the podium were two more Ligier JS P3s: #4 run by Ansa Motorsports and #60 entered by Wulver Racing. Eight Ligier JS P3s finished in the top 10!
The #54 MLT Motorsports Ligier JS P3 gave its rivals no quarter, but its win wasn't a foregone conclusion. Behind the wheel were two drivers who recently made their debut in the LM P3 category: 22-year-old Dakota Dickerson and 18-year-old Dylan Murry. It was Dickerson's, the reigning F4 U.S. Champion in a Ligier JS F4 currently lying second in the 2019 F3 Americas title chase at the wheel of a Ligier JS F3, second race in an LM P3. He had his maiden outing last November in the Michelin IMSA SportsCar Encore event at Sebring. Murry had his first taste of the #54 MLT Motorsports Ligier JS P3 at Sebring in the previous round, where he was backed up by his father, David Murry.
The MLT Motorsports Ligier JS P3 was fourth on the grid with Dickerson at the wheel. Ten minutes later he took the lead, which he held till the end of his 55-minute stint. Murry too never put a foot wrong. He fought off the attacks of the #4 Ansa Motorsports Ligier JS P3 and crossed the finishing line in first place. "We just started the team, this is incredible, said Murry." Dikerson added "I can't wipe the smile off my face. The Ligier LM P3 car is fantastic to drive. Driving their F3 car and their LM P3 car, you can tell they know what they're doing building cars. I'd love to come back to IMSA."
The #4 Ansa Motorsports Ligier JS P3 driven by Neil Alberico and Leo Lamelas clinched second place (it is also lying second in the championship) after starting ninth, a great comeback. In the closing laps, Alberico tried to snatch victory from #54. In his efforts he set the fastest lap of the race in 1m 19.538s last time round and finished only 1.046 seconds behind the victorious Ligier JS P3.
Filling third place on the podium was the #60 Wulver Racing Ligier JS P3 of Bruce Hamilton and Tonis Kasemets. They started in 20th spot and drove a stunning race. Five more Ligier JS P3s rounded out the top 10:
P1 – Ligier JS P3 #54 MLT Motorsports – Dakota Dickerson & Dylan Murry
P2 – Ligier JS P3 #4 Ansa Motorsports - Neil Alberico & Leo Lamelas
P3 - Ligier JS P3 #60 Wulver Racing – Bruce Hamilton & Tonis Kasemets
P6 – Ligier JS P3 #13 Ansa Motorsports – Benjamin Waddell & Jordan Perroy
P7 – Ligier JS P3 #64 K2R Motorsports – Naveen Rao & Alex Barron
P8 – Ligier JS P3 #40 Polestar Motor Racing Inc. – Keith Grand & David Grant
P9 – Ligier JS P3 #7 Performance Tech Motorsports – Blake Mount & Max Hanratty
P10 – Ligier JS P3 #11 Simraceway Motorsports – Maurice Smith & Nico Rondet
Rendezvous in two months on 5-7 July at the Canadian Tire Motorsport Park circuit.