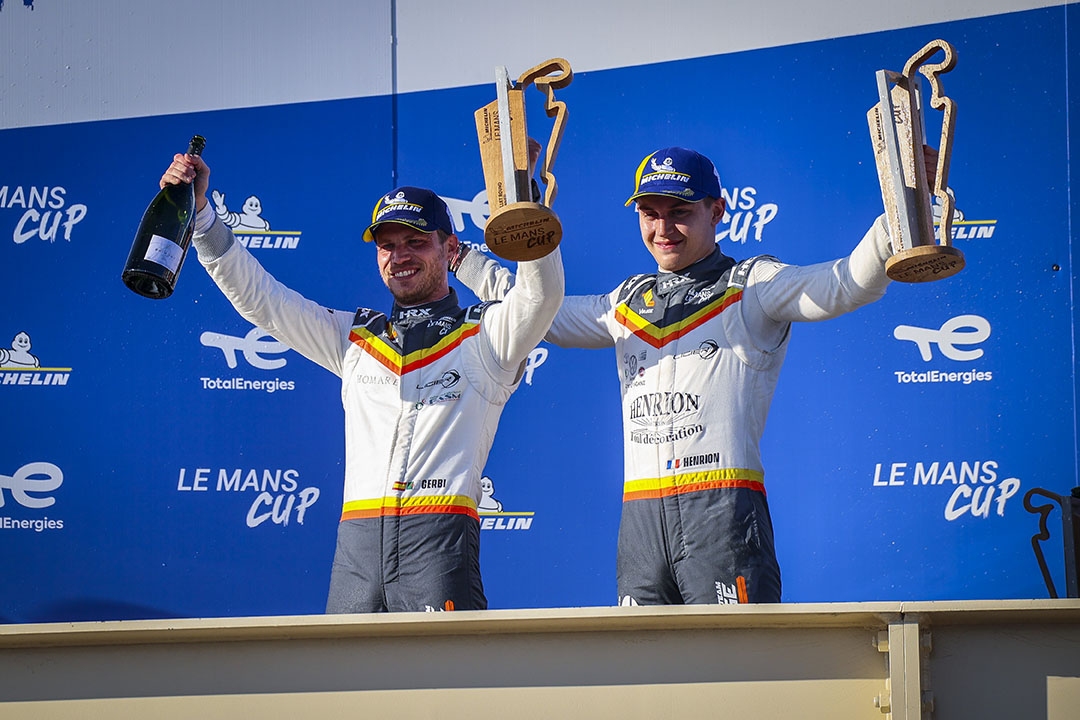 "In Michelin Le Mans Cup, you can go from hero to zero in a matter of seconds," Gillian Henrion, Ligier European Series JS P4 Champion.
Gillian Henrion, the reigning Ligier European Series JS P4 Champion and driver of the #16 Team Virage Ligier JS P320 (with Julien Gerbi), scored his third Michelin Le Mans Cup top-three finish of the season at Aragon in August. The pair have led the general classifications since their championship-opening win in Barcelona in April. With the season's penultimate race at Spa-Francorchamps fast approaching, the promising young driver looks back on the first half of his season.
The French prodigy began his endurance career in 2022 in the Ligier European Series, in the #16 Team Virage Ligier JS P4. With 11 wins in 12 races, Gillian Henrion crushed the competition to claim the JS P4 Champion title and the prize money given to the champion(s): €150,000 to compete in the Michelin Le Mans Cup in a Ligier JS P320 the following season*.
With two wins (Barcelona and Le Castellet) and a second place at Aragon, you've led the general classification since the start of the season. Can you sum up the first half of the season for us?
There have been highs and lows, including Le Mans, where we really struggled. But we bounced back well in the following races at Le Castellet and Aragon. The mid-season assessment is still quite good, and I've made progress in every levels, both mentally and in my driving. This first half of the season has helped me grow a lot in my racing career.
How have you evolved since your first race in Barcelona and fifth in Aragon?
I'm becoming much more familiar with the Ligier JS P320. But I still have to work on driving and understanding the car. The problem is that we don't test very often. Since Barcelona, I've done two or three tests. That's not enough to find my limits with the car. There are still a lot of things to work on. When I arrived at Aragon, I had not driven for a month and a half, so it was a bit complicated. I had to make up the gap against the other drivers who had driven in private tests or other championships. Nevertheless, the experience I've gained over the last three meetings has enabled me to keep up the momentum and get some solid results (editor's note: second place in Aragon).
And mentally?
Last year in the Ligier European Series, it was always: 'Victory, absolutely'. This year, I'm satisfied with second or third place for championship points. I'm looking more at the long term. In the Michelin Le Mans Cup, you can go from hero to zero in a matter of seconds. I'm trying to work on that and accept that I'm not always first.
You've built a solid duo with your teammate Julien Gerbi. How have you found your balance?
I couldn't have wished for a better teammate. We're both competitors at heart. We've found that in each other from day one. We try to outdo each other, find ways to be as fast as possible, and push our limits to the maximum. Julien always does a marvellous job in the first part of the race. He has a hell of a pace. After that, it's up to me to finish the job he's started. We've known each other for just over a year and know what we're capable of. Julien also has a lot of motorsport experience, particularly in endurance racing. All his advice is worth taking. For example, he explained to me the philosophy with which I should drive the LMP3 car.
What has been your most challenging race so far, both mentally and physically?
Aragon, I think, where it was exceedingly hot. It was like being in a sauna, in the car. Mentally, it wasn't the easiest race either. We had to get back into the swing of things.
What would you like to improve or develop during the second half of the season?
There are always things to work on! I'd say I need to improve my race pace and also how I manage the safety car restart. Knowing how to keep the tyres at the right temperature and without marbles (rubber debris on the track).
There are two races left on the calendar. How are you keeping a cool head despite your advantage in the general classification?
I approach each race as if it were my first. When I arrived at Aragon, it was as if there'd never been a win at Barcelona or Le Castellet, or a poor performance at Le Mans. When I come to a circuit, I only focus on the race. And depending on my position and race pace, I start to think about the championship. But if I think about it before the weekend, I will put unnecessary pressure on myself. And that will prevent me from accomplishing what I want.
For more information about the Ligier JS P320, CLICK HERE.
* Since 2022, the Ligier European Series has offered the Ligier JS P4 Champion(s) a €150,000 prize package to move up to the Michelin Le Mans Cup the following season behind the wheel of a Ligier JS P320 and a €100,000 prize package for the Ligier JS2 R Champion(s) to move up to the Ligier JS P4 category in the Ligier European Series the following season.