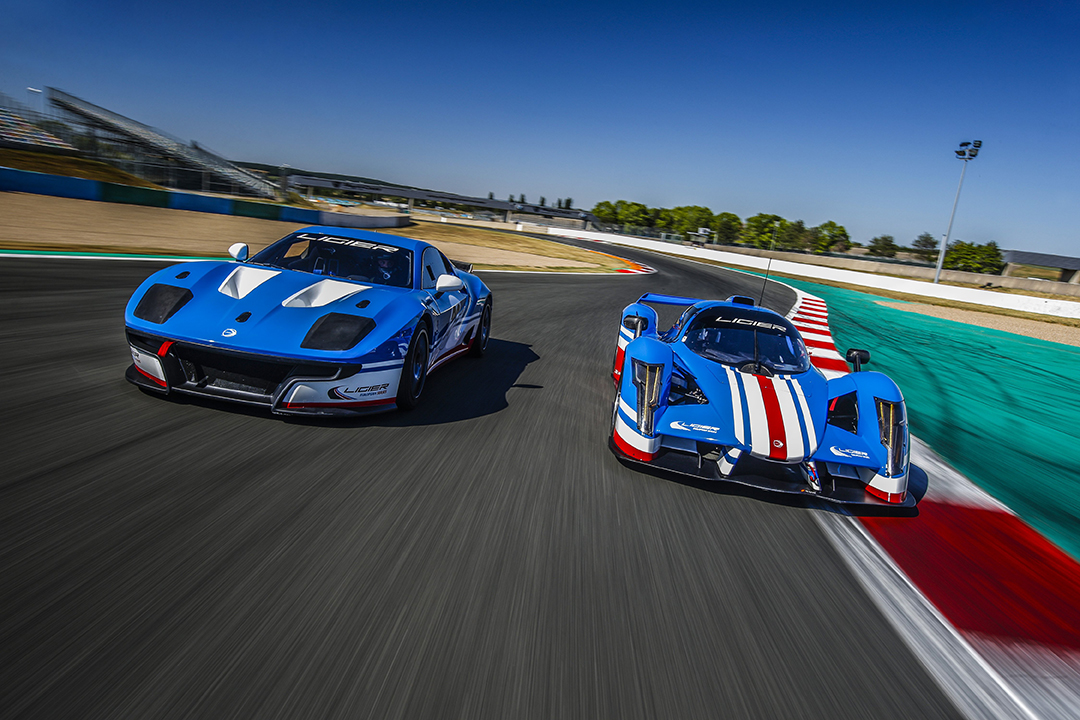 Ligier Automotive extends its network of Ligier Official Partners in Europe.
25 February 2022 – In 2021, the constructor announced its first official partnership with Horag Racing in Switzerland. With more than 530 chassis produced since 2014 and a range of cars from GTs to sport-prototypes and single-seaters, Ligier Automotive is now pursuing its development by expanding its network. Three new Official Ligier Partners are joining the French brand. LR Dynamic Events in Italy, Smart Driving in Romania and Xwift Racing Events in the Benelux. Their objective will be to promote the Ligier models designed to discover driving and competition, the Ligier JS2 R in GT and the Ligier JS P4 in sports-prototype; and launch new single-make championships in their territories.
2022 is off to a strong start for the French carmaker.
On the racing side, the results have come fast. The Ligier JS2 R, equipped with its endurance kit, won its category in the first two rounds of the 24H SERIES championship in Dubai (READ HERE) and Abu Dhabi (READ HERE). In LMP3, the Ligier JS P320 won the 24 Hours of Daytona (READ HERE) and the Asian Le Mans Series title (READ HERE).
On the product side, after launching its first one-off with the Ligier JS PX at the end of 2021, the constructor is offering this year upgraded versions of its Ligier JS2 R and Ligier JS P4, with notably more power for these two models.
In 2021, Ligier Automotive decided to establish a network of official partners to promote the brand's cars and single-make championships in new territories. In February 2021, Ligier announced its first partnership, Horag, to market Ligier race cars in Switzerland and provide technical assistance and a spare parts service.
Today, the constructor is accelerating its development with the designation of three new partners.
"We have been working for several years now to set up a network of official partners around the world," explains Pierre Nicolet, CEO of Ligier Automotive. The pandemic has delayed the development of this network somewhat, but we have continued discussions. We are proud today to associate our brand with three new partners. They will be our on-site contacts to be as close as possible to our teams, drivers, customers and other motorsport partners.
Besides the promotion and marketing of our GT and sports-prototype cars, the Ligier JS2 R and Ligier JS P4, our objective in the coming years is to create personalised experiences to offer our customers more and more opportunities with the creation of championships and trophies. We already have two Ligier championships, with the Ligier JS Cup France reserved for the Ligier JS2 R and the Ligier European Series for both the Ligier JS2 R and Ligier JS P4. We want to reproduce these programmes in other countries with the help of our partners. High-performance race cars with an unbeatable price/quality ratio is already a good thing. Trusted and dedicated partners to promote these products and launch new championships should allow us to take the next step."
Ligier Automotive joins forces with LR Dynamic Events in Italy, Smart Driving in Romania and Xwift Racing Events in the Benelux. Three partners in three different territories. Their mission will be to promote and market the Ligier JS2 R and the Ligier JS P4, manage the spare parts service for these models and develop new on-track experiences in these territories. They will also have the opportunity to market other Ligier cars to their customers.
LR Dynamic Events, Ligier Official Partner in Italy
Ligier Automotive names LR Dynamic Events as a Ligier Official Partner in Italy. Founded in 2016 by Luca Riccitelli, LR Dynamic Events is a leading motorsport actor in Italy. Today the company offers a wide range of on-track activities to its customers: from driving initiation to coaching and competition.
Ligier Automotive will benefit from the experience of Luca Riccitelli. After starting his career as a driver in the 1990s, Luca Riccitelli held the position of Manager of the Porsche Carrera Cup in Italy and Director of the Porsche Sport Driving School Italia from 2002 to 2013, before managing the launch of the new Huracan for Lamborghini worldwide as Director of Instructors for the Lamborghini Academia. His son Simone shares his father's passion for motorsport and is also part of the adventure. As a driver and coach, Simone will be an additional asset in the development and success of this partnership.
"We are delighted to join the Ligier family, which is a constructor that has been involved in motor racing for more than 50 years," says Luca Riccitelli. "We look forward to promoting the Ligier JS2 R and Ligier JS P4 in Italy, especially at the GT Championship meetings. We are sure that we can do great things in 2022 to prepare for the launch of an Italian Ligier series the following year".
"I had the opportunity to test the Ligier JS2 R at Magny-Cours and the Ligier JS P4 in competition in the Ligier European Series," adds Simone Riccitelli. "These are two cars designed exclusively for racing and which provide unique sensations for both gentlemen and professional drivers."
CONTACT: luca.riccitelli@lrdynamicevents.it
VISIT THEIR WEBSITE: http://www.lucariccitellidrivingacademy.com/en/lr-dynamic-events/
Smart Driving, Ligier Official Partner in Romania
In Romania, Ligier Automotive designates Smart Driving. The Bucharest-based company was founded in 2013 by former driver and Team Manager Andrea Fogliazza. Smart Driving specialises in the organisation of track days, driving instruction courses and other experiences with the possibility for enthusiasts to rent GT and sports-prototypes to enjoy themselves on the track.
Smart Driving has an operating base at the Motorpark Romania circuit, which opened in 2015. It also uses the Transylvania Motor Ring inaugurated in 2018 to organise its activities. In 2021, Smart Driving launched the Romanian Prototype Championship, which anticipates having more than 20 cars on the grid this year.
"We wanted to take a new step to promote our young drivers into the FIA/ACO European championships," says Andrea Fogliazza, CEO of Smart Driving. "We approached Ligier Automotive and were won over by their passion and expertise. We immediately understood that it was the ideal partner to continue our development. We want to create a strong base in Romania by launching a Ligier series in the Balkan countries from 2023 with a route to the European championships such as the Ligier European Series, the Michelin Le Mans Cup and the European Le Mans Series."
CONTACT: ligier@smart-driving.eu
VISIT THEIR WEBSITE: https://smart-driving.eu/
Xwift Racing Events, Ligier Official Partner in the Benelux
In the Benelux, Ligier Automotive is partnering with Xwift Racing Events. The man in charge is businessman Pieter Denys, who was introduced to motor racing late in life through a promotional formula. Two years later he finished on the top step of the podium in his category in the 24 Hours of Zolder. His objective since then has been to bring new people to the world of motorsport by offering them an "arrive and drive" experience.
Xwift Racing Events has become a leading actor in the Benelux and now offers track days and other services at the Spa-Francorchamps, Mettet and Zolder circuits to passionate gentlemen drivers and seasoned professionals with the 24 Hours of Zolder as the highlight of their annual programme.
"We chose to partner with the Ligier brand because it embodies the future of racing: lightweight and affordable race cars with no compromise on quality or fun," explains Pieter Denys, CEO of Xwift Racing Events.
"We are thrilled to be part of the Ligier family," adds Bart Noppe, Sales Manager of Xwift Racing Events. "We are very proud that we will promote the brand in the Benelux and generate enthusiasm for these beautiful cars. Every time we see a Ligier JS2 R in action, there are smiles on the faces of the drivers and spectators. We look forward to this season and our collaboration with Ligier."
CONTACT: ligier@xwift.racing
CONSULT THEIR WEBSITE: https://xwift.racing
For more infos on the Ligier JS P4, CLICK HERE.
For more infos on the Ligier JS2 R, CLICK HERE.